Une cuisine traditionnelle pour votre pause déjeuner, déjeuner de travail ou repas d'entreprise à Saint-Julien-des-Landes
---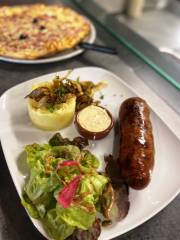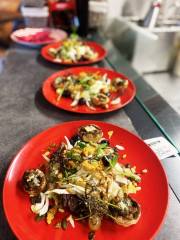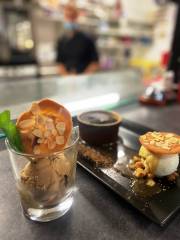 Restaurant pour votre déjeuner ou votre dîner près de La Mothe-Achard
Venez déguster au sein de notre restaurant une cuisine traditionnelle française, faite maison et parfois revisitée par le chef !
Actuellement notre carte d'été :
Entrées
Uniquement si disponible : Foie gras de canard entier français, chutney et pain brioché aux fruits secs 13.90€
Sometimes : Whole duck foie gras, chutney and brioche bread with dried fruits
Carpaccio de tomates d'antan pesto rouge et sorbet tomate-basilic 7.50€
Carpaccio of tomatoes of yesteryear with red pesto and tomato-basilic sorbet
Rillettes de thon frais aux herbes du soleil et roquette 7.50€
Tuna rillettes with herbs and roquette salad
Salade César : poulet, tomates, œufs, parmesan, sauce césar 7.50€ ou 14.80€ Salad, tomatoes, eggs, parmesan cheese, chicken and cesar sauce
Pour l'apéro...
Demandez la suggestion du moment ...
Dippers (portion de frites) et sauce maison 4.00 € French fries with home-made sauce
Viandes
Pièce du Boucher environ 200g (VF) frites et salade, sauce au choix 16.90€
Peace of meat, french fries and salad, sauce in your choice
Entrecôte, race viande 300g (VF), frites et salade, sauce au choix 23.90€
Rib steack, french fries and salad, sauce in your choice
Brochette de cochon mariné barbecue (VF) légumes grillés et pommes de terre grenailles 14.50€
Barbecue marinated pig skewer with fried vegetables and seed potatoes
Burger du Chef VBF 180g frites et salade 16.90 €
Chef's burger with french fries and salad
Pain burger maison, Steach hacké maison180g VF, bacon grillé, oignons confits, tomate, sauce burger maison, Saint Nectaire fermier
Home-made bred and chopped steack 180g, grilled bacon, fried onions, tomato, home-made sauce, Saint Nectaire cheese
Burger du soleil VBF 180g frites et salade 16.90€ Viande hachée maison 180g VF, pesto rouge, légumes et poitrine grillés, tomate, cheddar Home-made bred and Chopped steak, red pesto, fried lard and vegetables, tomato and cheddar cheese
Souris d'agneau au thym (VF) Ratatouille 22.90 € Lamb mouse with thyme and vegetables stew
Andouillette artisanale faite main (VF), crème de moutarde et pommes de terre grenailles 22.90 € Handcrafted andouillette, mustard cream and seed potatoes
Tartare de boeuf (VF) 180g frites et salade 16.90 € Beef tartare with french fries and salad
Poissons
Moules frites sauce au choix : sauce marinière, sauce curry, sauce bleue, sauce crème 13.90 € Mussles and french fries with sauce in your choice : marinière sauce, curry sauce, blue cheese sauce, cream sauce
Pavé de saumon en croûte de céréales risotto de tomates confites et piment d'espelette, vierge de tomates 17.90 € Salmon steak in cereal crusts, with confit tomato risotto and espelette pepper
Dos de Merlu crème de jambon et écrasé de pomme de terre 15.50 € Hake back with cream of ham and potato-mashed
Desserts
Assiette de fromages 7.90€
Cheese plate
Créme brulée 5.50 € Cream brulee
Pavlova aux fruits rouges frais meringue, coulis de fruits, chantilly et fruits rouges frais 7.50 € Pavlova with red fresh fruits, meringue and whipped cream
Verrine fraises de Vendée, menthe fraîche et speculoos 6.90€ Strawberries of Vendée, fresh mint and speculoos
Douceur framboise pistache Craquant chocolat blanc, riz soufflé, mousse pistache et framboises fraîches 7.50 € Delicious Biscuit with pistachio and raspberries
Profiterolles aux 3 sorbets et fruits frais Sorbets pêche de Vigne, Mûre et Fraise-rhubarbe (maître artisan glacier) 8.50 € 3 sorbets and fresh fruits Peach, Blackberry et Strawberry-rhubarb sorbets
Profiterolles aux 3 parfums glacés vanille, caramel et chocolat (maître artisan glacier) + chantilly 8.50 € Profiterolles with three flavours ice-cream : vanilla, salty caramel and chocolate
Délice chocolat pralinettes 7.50 € Delicious biscuit with pralinettes and chocolate
Café ou thé gourmand 4 mignardises 7.90€
Gourmet coffee ou tea with 4 sweets
Digestif gourmand 4 mignardises 11.50€ Gourmet digestive (brandy, mint or pear liquor, calvados, amaretto...) with 4 sweets
Coupes glacées

(glaces et sorbets d'un maître artisan glacier)
Fraise Melba 8.50€
2 boules vanille et fraise, fraises fraîches, coulis de fruits, amandes et chantilly
2 scoops of vanilla and strawberrie ice-cream, fresh strawberries, fruits sauce, almonds and whipped cream
Pêche Melba 8.50€ 2 boules vanille et pêche de vigne, oreillon de pêche fraîche, coulis de fruits, amandes et chantilly 2 scoops of vanilla and peach ice-cream, fresh peach, fruits saucez, almonds and whipped cream
Coupe fruits rouges 8.50 € 2 boules mûre et cerise, coulis de fruits rouges et fruits frais 2 scoops of cherry and blackberry sorbets, red fruits sauce and fresh fruits
Dame blanche 7.40€ 2 boules vanille, coulis de chocolat chaud, chantilly 2 scoops of vanilla ice-cream, hot chocolate sauce and whipped cream
Chocolat ou café ou caramel liégeois 7.40€
chocolate or coffee or toffee sundae
2 boules Chocolat, caramel ou café, coulis de chocolat ou de caramel, chantilly
2 chocolate or toffee or coffee ice-cream, chocolate or toffee sauce, whipped cream
Coupe Colonel 7.40€
Sorbet citron vert et vodka*
Green lemon and vodka
La Cookies 8.90€
2 boules sirop d'érable et natelloso, coulis de chocolat et caramel beurre salé maison, cookie maison et chantilly
2 scoops of mapple syrup and natelloso ice-cream,home-made chocolate and toffee sauce,home-made cookie and whipped cream
* L'abus d'alcool est dangereux pour la santé ! A boire avec modération.
Chers clients allergiques, n'hésitez pas à nous questionner sur la présence ou non d'un allergène.
---